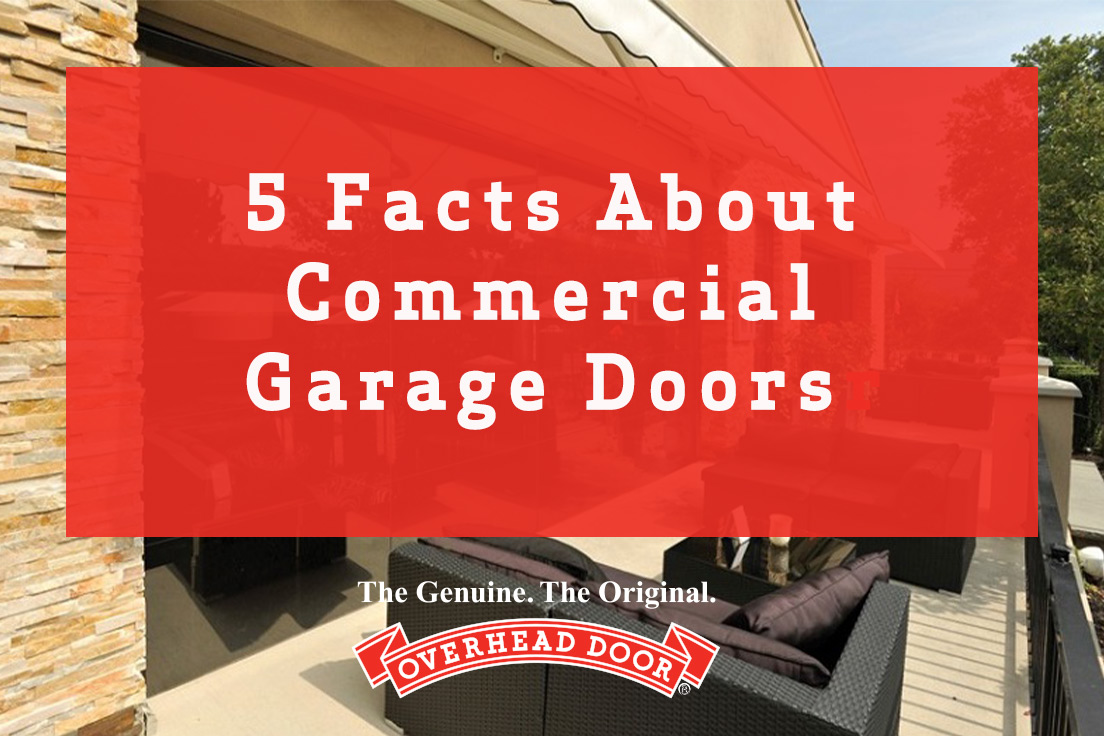 5 Facts About Commercial Garage Doors
You probably put a lot of thought into your home's garage door, but what about your business? The type of commercial garage doors you install at your business can be a huge asset in more ways than one.
Commercial Garage Doors Reduce Energy Costs. Investing in an insulated commercial garage door can greatly improve the R-value of your business.

R-Value

is a measure of thermal efficiency. The higher the R-value the greater the insulating properties of the door. A door that's insulated can help regulate the temperature inside your building, keeping it cool in the summer and warm in the winter, which allows your HVAC unit to work more efficiently. Overhead commercial garage doors can have R-values up to 17.4.


Commercial Garage Doors Increase Your Business' Curb Appeal. How your business looks says a lot to your customers and potential customers. A well-made and visually appealing door projects a good image while a damaged and worn door says another, even if your business runs like a top. Investing in a sleek, modern commercial door makes your business more appealing and comfortable for customers and potential customers to patronize.


Commercial Garage Doors Reduce Noise Pollution. The same R-value that insulates your commercial space from weather conditions can also help reduce noise. Three-layer sandwich construction with inner and outer galvanized steel surrounding a polystyrene core keeps out the sounds of busy streets, construction, trains and other outdoor noise pollution.


Commercial Garage Doors Increase Security. A damaged front door doesn't protect your business, neither does a damaged commercial garage door. Ill-fitting, poorly made commercial garage doors make easy entry points for burglars. Installing a sturdy, well-made door makes it harder for thieves to break-in, meaning more time for them to get caught.


Commercial Garage Doors Can Last For Years. Buying a commercial garage door is an investment that your company can have for years. Well-made commercial garage doors are built to last. You can be confident you'll get great ROI on your new garage door.
Overhead Door of Sioux City and Yankton™ builds quality, tough commercial doors that withstand the daily wear and tear of owning and operating a business. Our company boasts a complete selection of performance- and safety-tested commercial and industrial upward-acting doors, including rolling-steel garage doors. We manufacture a wide array of styles to meet your business needs, from insulated and non-insulated doors for internal and external applications to high-performance, sectional-steel and fire-rated doors. Engineered for excellence, our commercial and industrial doors are the premier choice for durability, serviceability and hassle-free performance. Contact us to learn more.