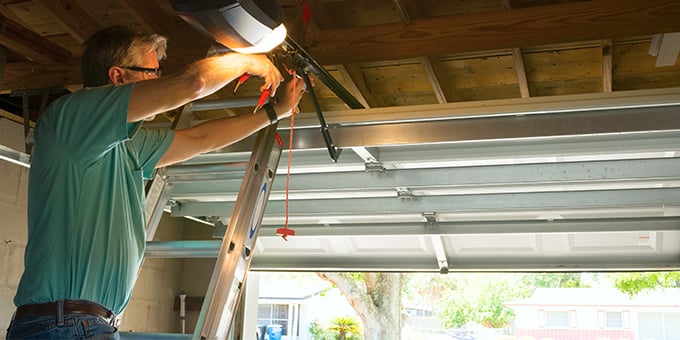 We spend hours outdoors beautifying our yards with pots of flowers, manicured lawns and tidying up entryways. But don't forget to refresh one of the biggest areas of your house - your garage door. Buying a brand new door is the best thing you can do to update the look of your home but that's not always an option. If you're not ready to purchase something new, there are at least three things you can do now to upgrade your garage door.
Open a can of paint.

Giving your garage door a fresh look is as easy as opening a can of paint.

Steel, fiberglass and wood garage doors can all be stained or painted.

Choose a color that compliments your home.

Experts recommend choosing a color that allows your front door to pop and your garage door to disappear.

Dark gray, browns and blacks are all great contemporary colors

,

just be sure

whatever you choose coordinates with your existing roof and siding.

You can even try out colors in our

design center

. Simply upload a photo of your door and

see which styles and colors look best with your home.

Add accessories and features.

Bring your garage door into your outdoor design plan. Trellises and pergolas add depth and detail to the space while

providing

flowers and

plants

something to grow onto. Pattern hinges and handles give any door an updated carriage-door feel. If your door is in good shape, consider having a panel replaced with w

indows to add interest to your door.

And

s

hine some light on your door. Install DIY solar lights in the lawn near the garage door to give your door's appearance a boost, while boosting your home's security.

Get your door repaired

.

Replacing a cracked, bent or broken panel goes a long way towards making your garage door look fresh again. Overhead Door of Sioux City and Overhead Door of Yankton crews can easily replace panels and weather stripping to quickly improve the look of your garage door and its function. If your door is moaning and groaning, let us check the tracks, pulleys and screws to ensure it is operating as it should be. Best of all, you can

schedule a service call

for a free estimate on repairs so you

'll

know just how much you'll be spending.
When you're ready for the ultimate refresh, a new garage door, contact us. We offer the latest and greatest in today's garage doors so you will always find the perfect door for your home.