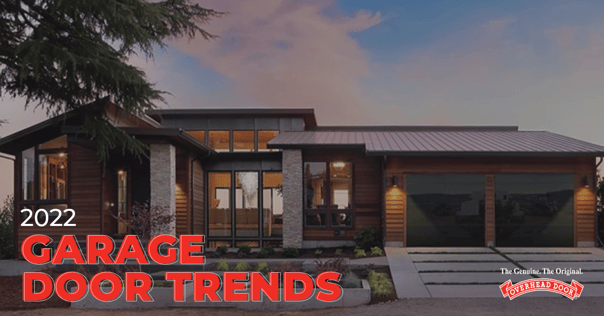 Replacing your residential garage door is one of the smartest home renovations projects you can take on in 2022. According to Remodeling's
2021 Cost vs. Value Report
, residential garage door replacement projects provide a 93.8% return on investment (ROI), topping the 2021 list. What's more, is the project that provides the most ROI is also one of the most economical. So, when you think about it, the only hard decision to make when it comes to replacing your residential garage door is deciding which of the many options to choose from.
Here are the top garage door trends we think will be in neighborhoods all over the Sioux City and Yankton area in 2022.
Bold and Dark Colors
Color trends for 2022 are leaning towards bold and dark colors like greens and brown tones that take inspiration from the natural world. These trends will show up everywhere from living room paint colors to furniture and outdoor spaces like home exteriors and garage doors. Consider choosing a black, dark brown or even comforting blue for your next garage door color. Overhead Door of Sioux City™ and Overhead Door of Yankton™ can provide endless color options for your new garage door. Traditional Steel garage doors are available in five standard colors – white, almond, desert tan, taupe or brown, or can be painted to match your home's décor. Impression Steel doors, low maintenance steel garage doors that feature foamed-in-place, polyurethane insulation, also come in gray, desert tan, terra bronze and black. These doors are now available in red walnut or a weathered gray wood grain texture.
Contemporary Design
Sleek, no-nonsense contemporary designs will continue to be a favorite for homeowners. Residential garage doors that feature both clean lines, functionality and premium insulation will be a sought-after upgrade. Installing a contemporary garage door can improve your home's curb appeal by allowing it to stand out from the pack. Modern Aluminum Garage Doors offer many advantages, including maximum light infiltration, durability, and, of course, a striking look for today's contemporary-styled homes. Crisp lines and sleek design formed from durable corrosion-resistant aluminum frames and light-filtering glass make a striking complement to your home.
Rustic Design
Rustic design isn't going anywhere in 2022. Rustic décor is described as being non-fussy with subdued hues and natural materials. Overhead Door's Wood Overlay and Steel Overlay Carriage House doors fit this aesthetic perfectly. These doors not only look great with wood-grain textures but can be customized with windows and hardware to give your home great curb appeal. Plus, these doors also offer superior thermal performance and durability, essential for the Midwest's cold winters and hot summers. The wood overlay doors come in a variety of stained finishes like mahogany, walnut, oak, green, gray, clay, Honduran/mahogany and red oak. Steel overlay doors come in a variety of painted finishes including two-tone options with white trim boards.
Garage door trends may come and go but when you invest in a quality product, backed by top-notch customer service, you will never regret your purchase. Overhead Door™ garage doors are made with the best materials available, so they're built to last. Use our garage door design tool to see which residential garage doors will look best on your home.
---