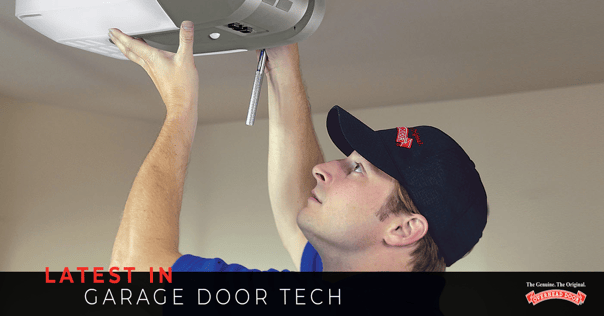 Smart technology has upgraded our daily lives. Today we have smartwatches, smartphones, smart thermostats, smart doorbells, refrigerators and cars. It only stands to reason that smart garage door openers should be next. But actually, Overhead Door of Sioux City™ and Overhead Door of Yankton™ has had the latest in garage door opener technology available to its residential customers for years.
The Basics of a Garage Door
The garage door has been around for more than 100 years (we actually invented it in 1921) and its function really hasn't changed much. A wood or metal door is raised and lowered on a guide by an electric garage door opener, either using AC or DC power. But the features on the opener have changed tremendously since the first opener was invented (again by us) in 1926.
Today, the Overhead Door™ brand offers a variety of garage door opener accessories that simplify life by making your residential garage door opener smarter.
Universal Wireless Keypad
Many of today's homes have multiple garage doors, sometimes with multiple brands of openers. The Universal Wireless Keypad is like a TV universal remote for your garage. It allows homeowners to control up to three garage doors with one device and one PIN. No more searching for the right remote or remembering multiple PINs. It works with the most common brands of garage door openers including LiftMaster®, Chamberlain®, Genie®, Overhead Door™ brand, Wayne Dalton®, Linear®, Marantec® and more. The universal keypad is compatible with rolling code and fixed code dip switch products manufactured since 1993 with working safety sensors installed.
OHD Anywhere® App
Beyond controlling how you raise and lower your garage door, Overhead Door™ has accessories that allow you to monitor it too. The OHD Anywhere® app lets you both control and monitor your residential garage door from your smartphone. Download the app and you can use it to check if your garage door is open, closed or if there is any change to the door position – from anywhere. This piece of smart tech is the perfect solution for those who panic wondering if they left the garage door open when at work or on vacation.
The OHD Anywhere® app will also alert you when someone is operating your garage door. The app uses a sensor attached to the garage door that monitors the opener instead of the garage door position. You're alerted when the door changes to the fully open or closed position even if the door is operated manually by disengaging it from the opener. Plus, it lets you open the door for deliveries, repair people, friends or family members without having to give out your PIN.
Wireless Wall Console
The Overhead Door® Wireless Wall Console lets you cut the cord to your wall-mounted opener. The wireless wall console is battery powered, so no wires running up the wall. It also includes a "Jogger Button," which provides a useful 10-second delay for those who like to run out of the garage after pushing the button to close it. With the "Jogger Button," you don't have to try to jump the sensor eye (we don't recommend that by the way) to clear the closing door. It also has an up/down door button with optional LED backlighting and a separate work light button to control the light on the opener. The LED backlight has two pulsating speeds and will turn red to notify you when your console batteries are running low so you're not caught off guard without a working wall console. It works with all Overhead Door® CodeDodger® equipped openers manufactured since 2013. Not compatible with Legacy® 800 Model 2026 or Standard Drive® 600 Model 1026.
See more about these garage door accessories on our website or contact us directly.
---